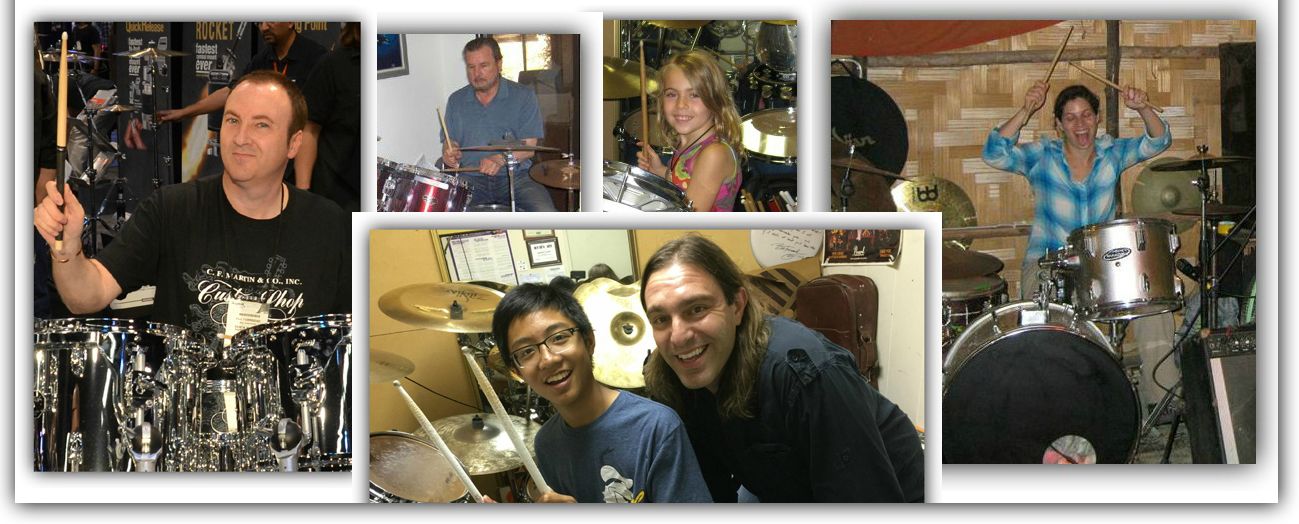 Your Guide to Great Drumming!
There's a lot of stuff out there to learn from but the lack of direction can leave you confused and overwhelmed. Your drum lessons here will give you the tools and motivation that you need to play the drums the way you've always imagined. You'll get proven methods, that work with your schedule, for the things you want to improve.
My name is Stefano Ashbridge. Together we will work to overcome your frustrations and have FUN making maximum improvement in the shortest time possible. If you're new to drumming or already at a professional level, I will guide you step by step through the process you need to become the drummer you want to be.

LEARN
Learn the techniques you need to play and improve on the drums.
APPLY
Apply what you learn to the music you love to play.

HAVE FUN
Enjoy the journey to becoming the drummer you want to be.
I was amazed to be playing the drum set in just one lesson with Stefano. I've progressed quickly and painlessly in relatively few lessons. Every class is FUN and I learn a lot almost effortlessly.
Linda Obermeit
I travel 56 miles round trip for lessons each week but what rewards! After a couple months with Stefano, I am flying. What a great feeling it is to see what I have accomplished.
Tony Katsaras (Eric Anders Show)
In just 4 lessons, Stefano has helped me break a bad habit that I had been struggling with for about six months. But more importantly, Stefano has helped me develop a different attitude about practicing in general.
Kay Kim
Here are just some of the benefits of taking lessons here.

* Lesson times available seven days a week!
The studio is open seven days a week to accommodate your busy schedule. Lesson time slots are scheduled based on availability.
* A waiting area lounge.
You can wait for your lesson in the waiting area. Wi-fi is available in the building. Alternately, the studio is centrally located close to shopping centers for your convenience.
* Lunchtime lessons for homeschoolers, retirees, college students, and working professionals.
If you are a homeschool parent, retiree, college student or working professional who has a flexible schedule, take advantage of lunchtime lesson spots.
* Track your progress.
We will use practice logs along with custom-tailored exercises and booklets so you can see how you're coming along. Lessons can also be recorded.
* Opportunities to play with others.
I offer periodic group drum jams so that you can experience playing with other musicians.
* Year Round Lessons.
Music lessons are offered year round for your consistent long-term progress.
* Life skills through music.
Music is an enriching part of a balanced life. It is my mission to teach more than academic musical skills. I want to also give you dedication, discipline, and problem-solving skills.
Play the music you love. Learn your favorite songs.
Play with other musicians at the group drum-jams.
Lessons can be recorded to see and track your progress.
Beginners to advanced students of all ages welcome.
Fully stocked lesson room with everything you need.
It's easy to take the next step:
Lessons are first come-first served.
Contact me today to arrange your first lesson.
Offering quality drum lessons in the Los Angeles, California area.