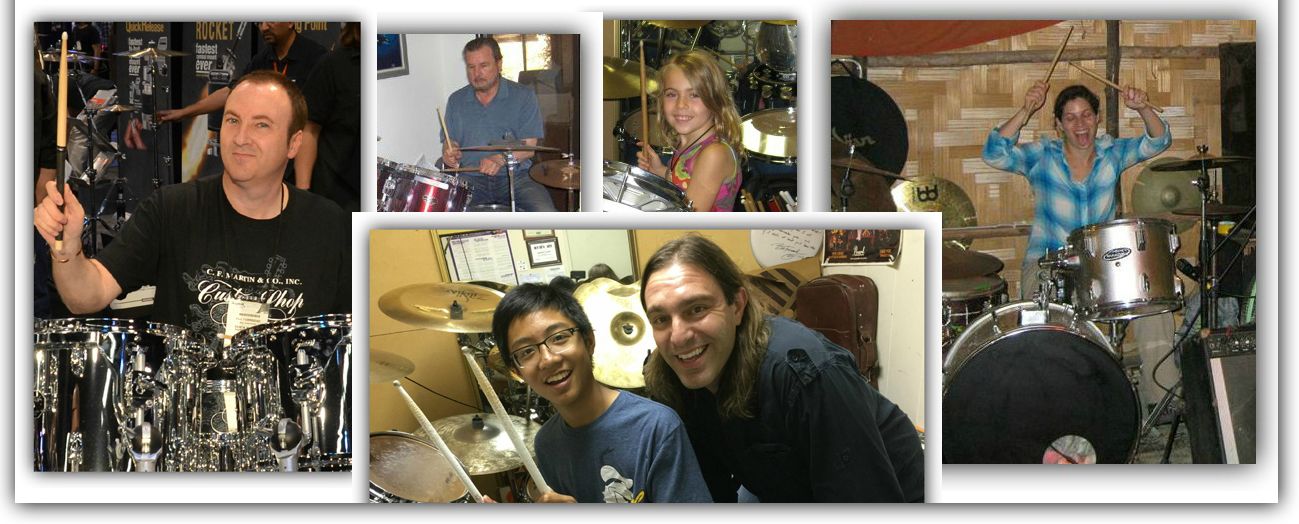 What drummers have to say
I was one of those kids banging on my desk with two pencils. My mom was never able to afford lessons but as an adult, I wanted drum lessons. I didn't care how much it would cost. That is when I found Stefano Ashbridge. I called and set up a drum lesson with him.
I was nervous. I went in knowing absolutely nothing about the drums, literally nothing. It was a shock when I was able to keep up with everything he was showing me. Stefano made learning how to play the drums simple. Everything he teaches builds upon itself after every lesson so it's not overwhelming. Stefano Ashbridge is the perfect person to teach you how to play this amazing instrument. I am extremely grateful for his knowledge and patience.
I am a self-taught drummer from the 60s who has played or jammed with The Mary Kaye Trio, Sammy Davis, Jr., Joe Cocker, etc. After 30 years of not drumming, I wanted to play again but I felt left in the dust by today's drummers.
I wanted to get up to speed and after a couple months with Stefano, I am flying. He sees what you can do and can't do. He makes you add and get rid of. He's a great drummer. I am learning to read and playing new beats. I travel 56 miles round trip for lessons each week but what rewards! During the week I get e-mails and phone calls to check my progress. What a great feeling it is to see what I have accomplished, including playing drums on the Eric Anders show. My only regret is I wish I had met him sooner. Thank you.
I was amazed to be playing the drum set in just one lesson with Stefano. There's something about his calm and patient approach that magically turned the key for me. He's a perfect teacher for me because of his organized, systematic teaching and his friendly, encouraging style.
I've secretly been in love with the drums for many years but was too shy to admit it. Finally, I decided to put my fears aside and try just for the sheer joy of it. It took me a long time to get up my courage since I had a brief experience with another instructor that made trying the drum set intimidating. I didn't know what to expect and really didn't know if I could do it.
I've progressed quickly and painlessly in relatively few lessons while having fun playing to my favorite songs. Every class is FUN and I learn a lot almost effortlessly thanks to Stefano's techniques, teaching expertise and easy-going style.
In just 4 lessons, Stefano has helped me break a bad habit that I had been struggling with for about six months. But more importantly, Stefano has helped me develop a different attitude about practicing in general. Before, I would always be frustrated after a practice session, wonder if I was progressing at all, and ultimately question whether I'd even be able to achieve the goals that I wanted. Stefano's lessons not only gave me the most optimal exercises in achieving those said goals, but also made practicing extremely fun to the point where I would have to force myself to take a break.
As a teacher, he is very knowledgeable in a wide variety of genres, and makes sure each student is able to learn the styles of music that he or she wants. Finally, every other month or so, he'll host a group-class where all of his students are able to be together in a room and play to each other.
Stefano is an amazing teacher with an incredible passion for music. His teaching ability is truly unique. He has a great personality with an uplifting attitude and has a genuine sense of humor. After the first lesson, I instinctively knew I was going to reconnect with him and choose him as my drum teacher despite shopping around for prospective instructors. If you're looking to have a great time learning the drums look no further!
I came to Stefano as an intermediate player with substantial music knowledge but poor reading skills. In the last year and a half, he has brought me to an advanced level. You will learn a ton, and have fun! I find that whatever I want to learn and practice, he's got the curriculum and understands it. Plus he has a newsletter, and jam sessions. Good value added. Stefano came to my first gig, and he took videos of all the songs! Now I have video of my first night out as a drummer, thanks to him. Stefano is cool like that.
I tried to teach myself to play using YouTube but realized I needed a sense of discipline to formally learn the basics (especially since I wanted to learn the traditional grip). That's what made me seek out a teacher.
What I really love about classes with Stefano is that we discuss musical preferences, expectations, and goals for the class right away during the first meeting. Additionally, I really like how he structures the lessons, which makes them and my practice sessions much more enjoyable and something that I look forward to.
I went to a metal concert shortly after starting my lessons and I found myself picking out the parts of the drummer's vocabulary.
Stefano is an excellent instructor and very passionate about teaching. He's attentive, patient, and keeps me motivated to continue learning. I'm excited for more lessons and to further my progress as a drummer. Thank you Stefano!
Stefano is a great, fun teacher. I started out not knowing what to expect and I've gotten so much better since studying with him. He has really helped me to improve my timing. I love a challenge and if you're looking for one, Stefano is the guy to go to.
Stefano is a great teacher! I started taking drum lessons as an adult who'd always wanted to learn drums but had no experience. Stefano makes sure to work at your pace, finding the balance between pushing you to grow while ensuring you grasp everything and are actively improving and understanding. He also dives right into your favorite music making practicing fun and satisfying from the very start.
I went in knowing nothing about drumming, and I am now a member of my high school varsity drumline because of Stefano. He makes learning fun and is always available by phone or email if I have any questions.
I showed up with no experience drumming and Stefano tailored a study program for me that got me playing my favorite songs within a few weeks. Thanks Stefano!
Stefano is so understanding and always helpful. It makes a world of difference when you have a teacher that genuinely wants the best for their students. Stefano is definitely the one to go to.
I can't say enough nice things about Stefano and his teaching methods. He is patient and very educated in the art of drumming. My son learned to play the double bass pedal during his first lesson. No one teaches that! Stefano is kind and reliable and you will share in the love he has for music. Stefano Rocks!!
Stefano is the only reason I still play drums. He has really helped me focus my playing and technique to be a better drummer, and musician.
I really am impressed with your quiet confidence. You know what you're doing, but keep your ego totally in check. Lastly, you're patient. You keep us on track, but you always allow and encourage spontaneity. I feel very comfortable with you and the way you are leading me forward. Thank you so much.
Stefano has the unique insight to perceive the level of your drumming and adjust his teaching in order to advance you faster and more effectively.
Stefano broke down what I was doing incorrectly and showed me what I need to do to properly improve and with plenty of practice, it's shown dramatically in my playing. 
The coolest thing for me was seeing the increase in speed and accuracy of my double bass. It felt like I broke through a barrier that I was fighting for a long time.
Most one-on-one music lessons aren't much fun, but the dozens-and-counting lessons I've taken with Stefano have all been a blast. He is super knowledgeable, enthusiastic, and flexible. Personally, at any given time I am all over the place when it comes to what gets me excited about drumming.
Whether it's grip, strokes, tone, music reading, different time signatures, song structure, sense of groove… he has always had the curriculum at hand, understands what I'm going for, and points me in the right direction. Right now I'm going through the rudiments one by one, discovering entirely new applications and beats–learning a lot and having a blast! :)) Thanks, Stefano!
I think that Stefano is a great teacher- not just a great drum teacher but a wonderful teacher and a terrific person. He is always prepared, intuitive, patient and professional and seems to tailor the drum lessons to my individual needs. In a very short time I felt confident and competent on the drums. Knowing how to drum properly has made drumming more enjoyable than I could have ever imagined and I sincerely could not have done it without the tutelage of Stefano.
I wanted to start drum lessons in the area and didn't know where to start. A friend mentioned and recommended Stefano. He's a great teacher and definitely knows his stuff. His experience has allowed me to go at my own pace while integrating theory he's taught me and implementing them in my drum playing.
As an adult student with no prior percussion experience (but having harbored a lifelong desire to learn), I found in Stefano a wonderful guide to getting up on my feet behind the kit. This built my confidence early, and has incentivized me to work on the basics in our own fashion alongside other musical pursuits.
Stefano has a warm, approachable manner, a great sense of humor, and a boundless affection for music that is contagious. It is always a pleasure to get in a lesson, and you'll never be left wanting for inspiration, material, or encouragement. He gets my highest possible recommendation to anyone interested in learning the drums.
After my first drum lesson, I immediately knew that Stefano was the right teacher for the job. His patience and qualifications were impressive and though I didn't know much about what to expect from a drum teacher, I felt that his positive nature and his enthusiasm for teaching would make a comfortable learning environment for me…and I was right.
The learning tools he supplies are most helpful, and it comforts me to know he is only an email away if I have any questions to which he always responds in a timely manner. His studio is quaint, but well equipped and is among a number of other music studios which I have to say is pretty awesome. It's like being part of a really cool club.
It's now been six weeks, and the time and attention he has given to help me is not only exemplary and ample, but MUCH appreciated. The fact that someone cares as much as I do in helping me/pushing me to achieve my goal is truly priceless. Thank you, Stefano.
Stefano is an amazing drum teacher. He teaches in such a manner that is not threatening or condescending, yet uplifting and positive. He is patient, yet understands that the student wants to just hammer away and make lots of noise so he mixes the basics with permission to let loose.
He is also very individualistic in his teaching, meaning he really focuses on what you are asking and where you need help. For instance, I sometimes learn best by watching, so if I ask him to show me something he readily does. Or, if I am thinking way ahead, such as how I may use a flam in a song, he doesn't get impatient and say, "we'll get to that," but instead, answers the question and talks about how it will be worked into our lessons. I highly recommend Stefano to anyone who wants to learn drums the right way.
I am gaining confidence in playing the drums because of Stefano's teaching and motivation. I have also noticed that I am not afraid of taking on the next drumming challenge. I want to grow and progress in playing the drums, which is what Stefano is helping me to do.
Thank you, Stefano, for being such a wonderful teacher. I appreciate your teaching style, your encouragement, and I can truly say that I enjoy learning about the drums and have even more fun playing thanks to you! I learn something new in each session and I enjoy the atmosphere. Thank you and keep up the great work!
My son was nervous before his first lesson with Stefano because he did not know what to expect. He came out of the lesson with a look of confidence and happiness on his face like he thought he was the coolest kid alive. He was like a different kid. I couldn't BELIEVE IT!!  
He couldn't wait for the next lesson and was banging the beat to "7 Nation Army" on his thighs.  It's a glorious feeling to see your kid have enthusiasm sparked in their heart with happiness and confidence in their eyes.
Stefano has a special type of connection with his student that brings out enthusiasm in his students like my son. He made my son feel like he was on the road to something great together with him.  
I was nervous to learn the drums at this point in my life and Stefano made it not only a comfortable process but also one of the most rewarding experiences I've ever had. Stefano strikes the right balance of fun and seriousness- we follow a curriculum that helps me grow as a student and addresses weaker areas. I look forward to my lesson every week!